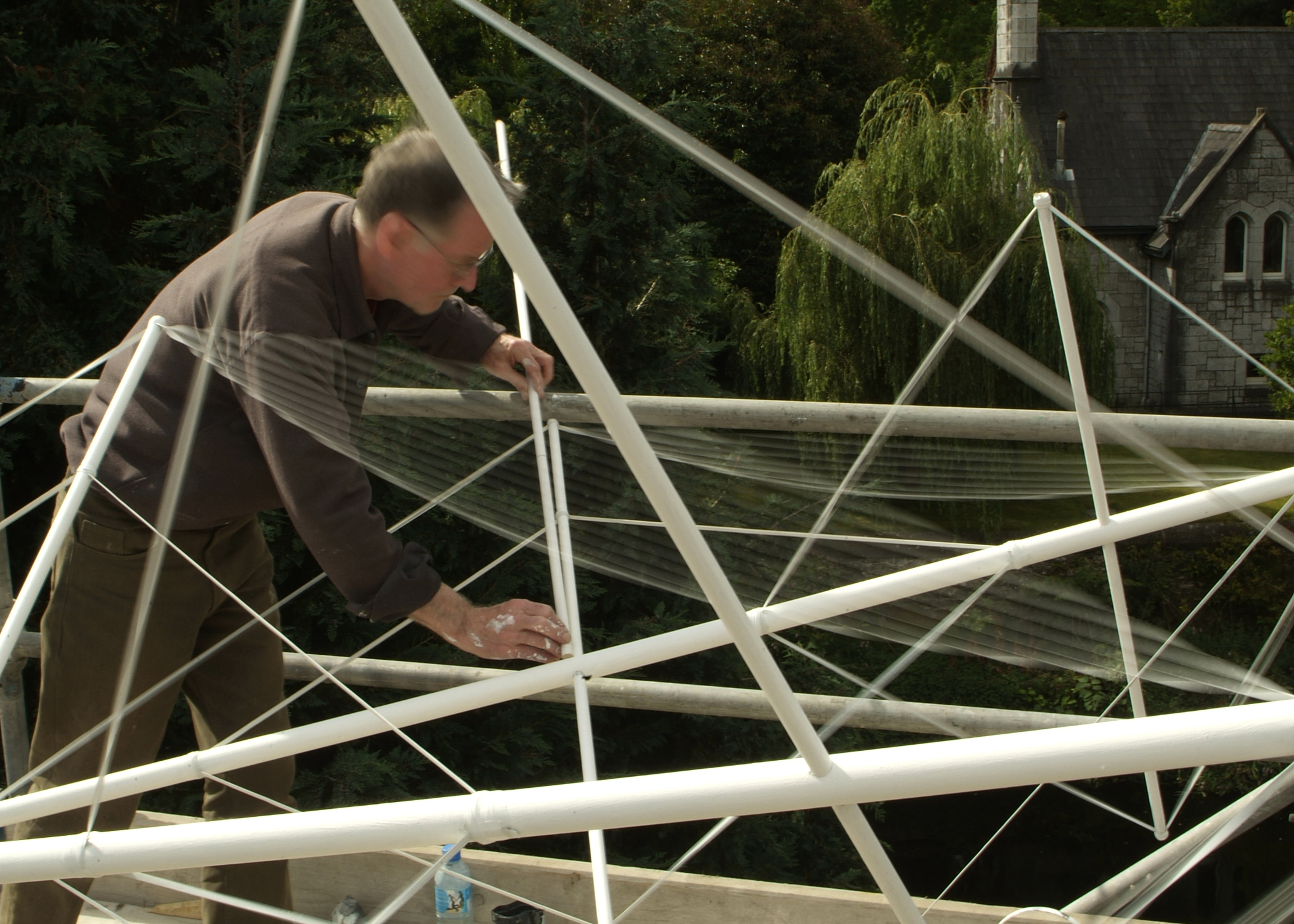 Photo by Keiran Tobin
Max Eastley is an internationally recognised artist who
combines kinetic sculpture and sound into a unique art form. His
sculptures exist on the border between the natural environment
and human intervention and use the driving forces of electricity,
wind, water and ice. He has exhibited both interior and exterior
works internationally. His work is represented in the permanent
collection of the Centre for Art and Media, Karlsruhe, Germany
and private collections.
Max is an artist with the Cape Farewell Climate Change Project
(http://www.capefarewell.com). From 2010 to 2013 he was an
Arts and Humanities Research Council Senior Researcher at
Oxford Brookes University, investigating Aeolian phenomena
through artistic practice and historical research. In 2014 he was
City Sound Artist in Bonn, Germany and in 2017 he was a guest
of the DAAD in Berlin, Germany.
He is well known as an improvising musician and has played
many solo concerts as well as in combinations with musicians
such as David Toop, Evan Parker, Steve Beresford, Alex
Kolkowski, Rhodri Davies and John Butcher, Ute Wasserman,
Phil Minton, Axel Dörner, Nicola Hein.
---
This site has been hosted with the assistance and support of RADAR - Oxford Brookes University's "Research Archive and Digital Asset Repository" - as part of an AHRC-funded Research Fellowship undertaken by Max Eastley at Oxford Brookes University between 2010 - 2013. This website is a portal into Max's research into Aeolian Phenomena, and a permanent, searchable creative resource.
Creative Commons Attribution-NonCommercial-NoDerivs 2.0.
All of the images, sounds and texts presented here are held on RADAR and are licensed under a Creative Commons Attribution-NonCommercial-NoDerivs 2.0 UK: England & Wales License. This means you are free to share the images, as long as you create no derivative works; always attribute the work to Max Eastley; and do not attempt to make commercial sales based on these resources.